Every 3rd Tuesday of the month, Alliance Française opens its doors to different kinds of people, who aren't just French speakers or learners, but Afro Jazz Music enthusiasts.Ricky Nanjero and his amazing band, Ricky na Marafiki, let music enthusiasts sample the best of the live music acts lined up at the Wangari Maaathai Auditorium, in a colorful evening known as An Evening of Afro Jazz.
The July Edition was dubbed #Crucial Keys Edition, which featured the Celebrated Jazz Pianist/Keyboardist; Aaron Rimbui, The Act of love and the one and only Ricky na Marafiki Band.
First Up on stage, was the Act of Love band, that electrified the crowd to yearn more for the night as we all awaited in baited breath to meet the legendary jazz Pianist/Keyboardist Aaron Rimbui. Our heads were kept bobbing for almost one and a half hours. During the show breaks, Rupu was nice to shower us with gifts, if we correctly answered questions regarding their products.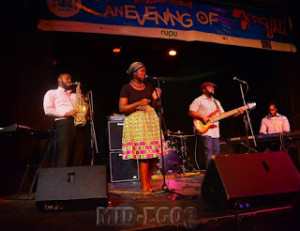 The night was still young. Ricky and his gang were next on stage. Ricky started off with the "Rafiki" jam accompanied by an amazing Bass player, Tunu. We were then drifted to the Luhya land, shoulders were shaking to the 'Stomach dance', Mr. Ricky also unveiled a new female vocalist, described to us as Mama Africa, Serro, joined the band in singing 'Tucheze', a single from Ricky an Marafiki's first Album.
Man of the Night
There are no words to succinctly describe Aaron's skills in any way: Aaron teased out every single rhythmic texture while flawlessly delivering all the notes at lightning speed — so quickly at times that his hands were a blur hovering over the pearly-white keys on the keyboard.
Aaron's fingers flew along with uncanny fluency and precision, and the dynamics were impeccably modulated, he seemed as though he was communicating to the keyboard itself. He played seductively to songs like 'Nakupenda' , a song originally done by the Safari sound band and many others. It was just like pure heaven right in front of us.
The enthralled audience and myself included, was left, slack-jawed and awestruck by a virtuoso display that will live on in memory for a long time. An Evening of Afro Jazz, I want more of this!!
This August on the 25 , An Evening of Afro Jazz will have Eric Wainaina, in an edition dubbed as "The Legends Edition. "