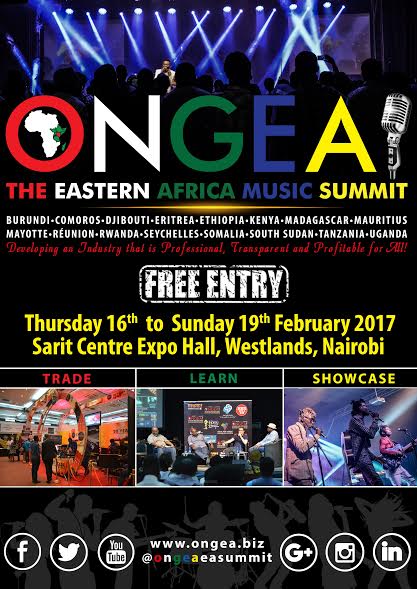 Looking to move and shake to the best of African music with a line-up that will feature artists from over five African countries? The ONGEA Festival 2017 is set to take place this Thursday 16th February to 19th February at the Sarit Centre Expo Hall, Nairobi.
The ONGEA East Africa Music Summit is the largest music industry event in Sub-Saharan Africa, outside South Africa. The festival was born out of Kenya Music Week which ran for ten years from 2004 to 2013.
Visitors to this year's summit can expect more than just music.
NETWORKING LOUNGES
The event will come equipped with networking lounges for business-to-business deals courtesy of Extra Dimensions.
FREE STUDIO SESSION
The event will also feature Studio Transparent, run by PHAT! Intellectual Property, where anyone can record their demo, with Artville Music, for free.
OPEN MIC SESSIONS
There will be an Open Mic session daily from 12.30 pm – 2.00 pm – where aspiring musicians can showcase their talents with auditions for Sauti Academy running on Saturday and Sunday. Two lucky winners will receive a fully paid scholarship for one year at the Sauti Academy.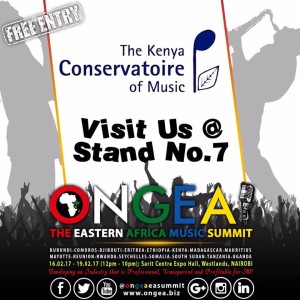 INDUSTRY PANELS
This will entail thought-provoking leaders who will discuss broadcast, digital distribution, festival bookings, live sound, monetizing compositions, music and culture, music education and rights compliance.
SHOWCASE PERFORMANCES
Every night, from 6.00 pm to 10.00 pm, a total of 29 artists from seven different African countries will take the stage, performing purely African music – made by Africans, for Africans.
3rd MDUNDO AWARDS
An additional feature of this year's summit will be the 3rd Mdundo Awards on 16th of February as well as a World Record attempt to record 'the longest song with the most artists'.
People who work in the digital space will also get the opportunity to attend a Social Media Training Workshop spearheaded by the Bloggers Association of Kenya on 17th February 2017.
Among the topics to be covered include:
Basics of social media
Social media ethics
Understanding Copyright and fair use
Do's and dont's of blogging and social media
use of social media to market one's brand
Interested in the training? Apply here.
If you're passionate about East Africa, its' vibrant culture and its' music – then a visit to the festival should be great treat. Entry is absolutely free.