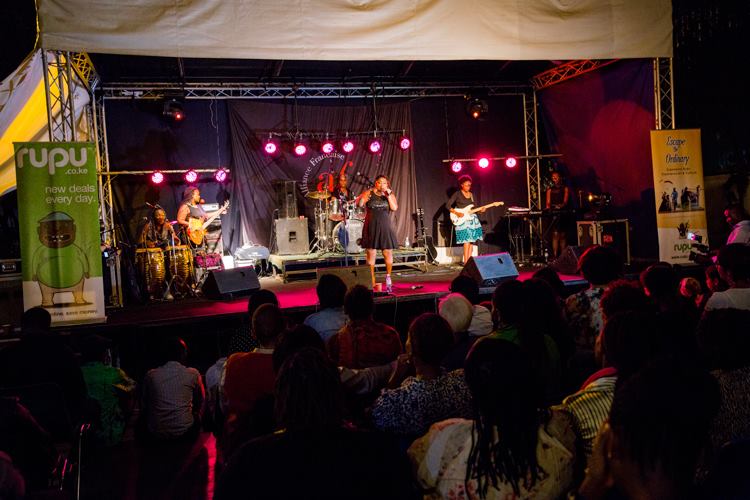 On the first of April, I attended an event named 'An Evening of AfroJazz; Divas Edition', an incredible event by Ricky Na Marafiki band at the Alliance Francaise gardens.
The lined up for the evening was a bevy of incredible ladies prepped to set the stage on fire, with most of them all glammed up for the show and ready to blow away the audiences with stellar performances.
The Alliance Française garden is relatively small and easy to traverse, with the great ambiance to it.  They offered delectable meals and an interesting assortment of drinks as we waited for the show to begin.
Ms. Okinda
The first act to tantalize us was a beautiful lady called Ms. Okinda, who fused the beautiful Luo language with her sultry voice. I love the way music has the power to cut through language and resonate with any audience.
Swiga
The opening act of the night was the 'bootiful' and curvy Swiga, it was my first time to ever encounter her. Swiga's lyrics were something that most ladies in the audience could relate to.  In between the breaks, her drumist made a special announcement to his special lady in the crowd and dedicated Swiga's song 'Butterflies' to her  saying that's how she made him feel. This expression of affection made some in the audience swoon. The lyrics of the song went something like this: "You give me Butterflies when you look into my eyes"
June Gachui
The highlight of the night was by sassy June Gachui, who took the stage as a queen of vocals. She was backed by an amazing band that comprises of females only, they are known as the Flower Project. This was phenomenal.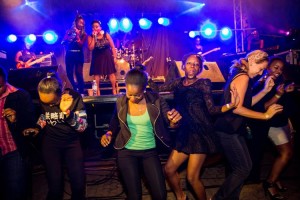 June threw in a few Jazz standards such as 'Baby don't cry' and 'Cry me a river' by Ella Fitzgerald. She fused the jazz bit with some of her own composition and had the audience singing along. Through her set, June kept the audience engaged making it an enjoyable show. When she performed Tevin Campbell's 'Can we talk?' all the ladies felt like they had taken a trip back in time. With her performance June managed to blend the younger members of the audience with the older members into one cohesive unit. June also performed Benga and Lingala hits that drove the audience to the dance floor.
Ricky na Marafiki
The Ricky na Marafiki Band who took the stage last, had a good time entertaining a crowd that was already eagerly awaiting their hits. The band has always had a magic touch since time immemorial to keep their 'marafiki' fixed to their seats till the very end of their set.
—————————————
Edited by: Kuchio Asonga. 🙂