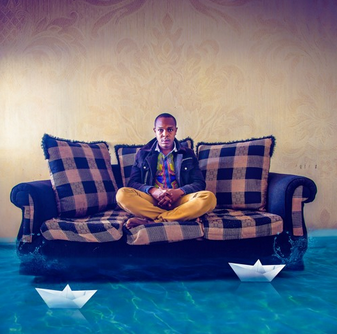 The cover image of the song reveals Muema Nzomo's artistic side. Muema Nzomo is not only a talented pianist but a creative freelance photographer as well. On the cover art of lala, features Muema Nzomo in a tranquil space. His sofa floating on clear aqua blue water, with crispy clean white paper boats floating on it. Nzomo tries to create an impression of the holistic nature of the song you are about to listen to. Lala takes you on a rich and tranquil musical journey for about 3 minutes.
I remember listening to this song just 11 minutes after it had been published by Muema on Soundcloud. It has a catchy feel to it that is thoroughly delightful. Muema Nzomo tells me that the inspiration for doing this song was the memory of how their nanny used to sing it to his baby brother. Maybe he was jealous that he didn't get serenaded as well, or thought that he could do a better job at it, well he did a splendid job with his rendition.
Once it hits, you can tell that it is a memorable well-arranged melody. When you get to the second passage of the song; it hits you, you actually know it. Then you start searching your memory for the original tune. It briefly proved elusive till it hit me and I had a Eureka moment.
I know this song. It is "Lala mtoto lala (sleep baby sleep)!
Muema Nzomo ingenuity in recreating this famous old lullaby is splendid as it is done predominantly on the keyboard.
The original lala song is taken from the coastal area of Kenya. It is a lullaby that promises candy, cakes and sweet things to babies if they go to sleep. In its short span, Nzomo is enthralling and will have your finger on the replay button. Nzomo not only taps our nostalgia, but also invites any listener to bond with his craftsmanship.
In Lala, Nzomo chooses light repetitive percussive beats that blend in well with the heavy bass beats that hold the melody in check. Nzomo's choice of arrangement is very distinct, it is so distinctive that you can literally feel every note hit, it will definitely make you sing to the memorable lullaby.
Nzomo shines in this seemingly simple yet sublime effort. Distinctive piano presence, his riff mastery is brilliant, they add a grace and lushness to his expertise on the keyboard.
Sample of the song: Lala by Muema Nzomo
Editing by: Kuchio J 🙂
Photo credits: Muema Nzomo Facebook page