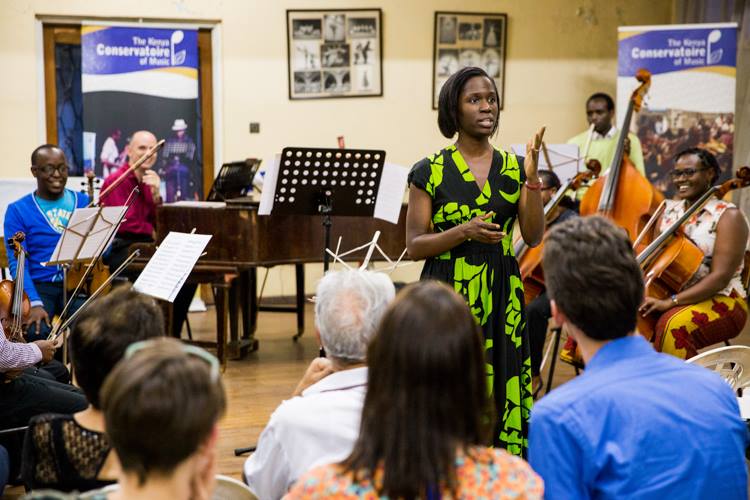 Last Thursday evening, Nairobi's oldest music organization,Kenya Music Conservatoire, brought together a midweek treat for classical lovers at their Ballet studio. The musical treat was dubbed the 'Trio Recital' it included the Zeze Ensemble, James Laight on Piano, David Richmond on Bassoon and the bubbly Elizabeth T. Knott on Oboe.
Moving backward through the program, the eclectic Zeze ensemble were literally breathtaking; it was during this all-too-short piece that I glimpsed what the combined ensembles were truly capable of stunning lyricism, a mature and well-blended sound, that was both a heartfelt and memorable.
Similarly, the performance by David Richmond on the Bassoon Sonata, Op.168 (Saint-Saëns, Camille) was amazingly fresh and crisp. He showcased his ingenuity to handle the bassoon with so much energy and in his ability to take us through the whole piece with great articulation. Not only does David deliver complicated and super-fast passages with the greatest of ease, but at the same time, he remains fully in control of the whole score.
In addition, pianist James Laight, had the ideal measure of steely precision, he managed to give a different color to each note in of the various pieces he accompanied displaying true artistry.
It would be amiss not to cite Elizabeth's stunning oboe playing. She exhibited splendid displays of runs, and articulations that had the audience riveted especially when she performed the glorious
'summertime' by Gerswin.
It was an ecstatic wheeling of stars and dancing of atoms as I listened to the various performances.
———————————————-
The event was geared towards getting donations for the Rare Orchestral Instrument Project. The project targets to get more students to learn and acquire rare instruments that are not popular with the various Orchestras here in Kenya. The instruments include: French horn, Bassoon, and the Oboe.
Photos Courtesy of: Quaint Photography
Words Edited by: Kuchio Asonga.  🙂