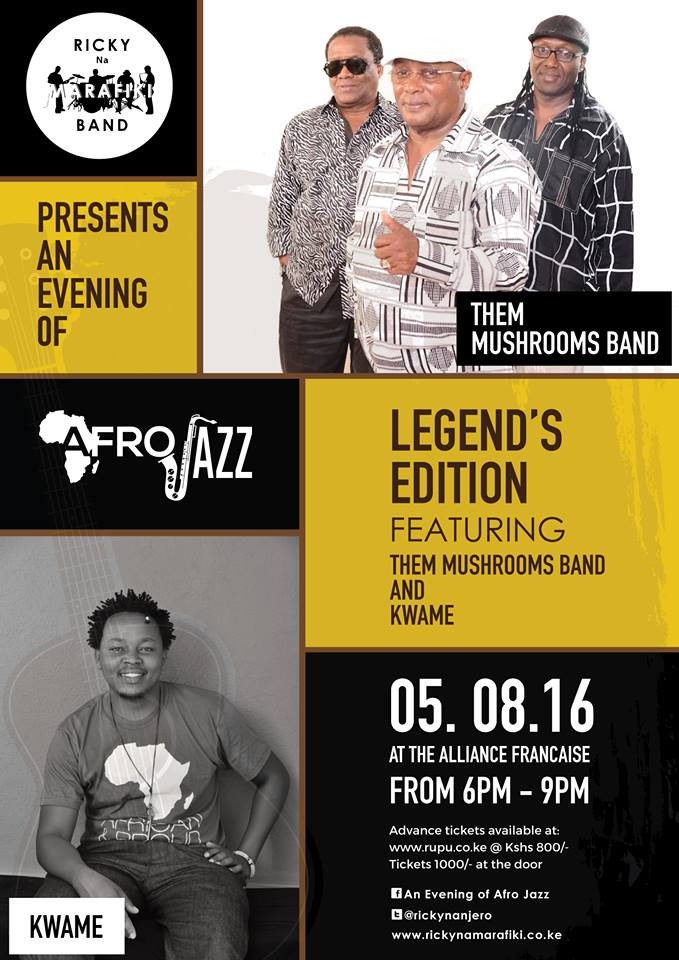 One of the most revered band in Kenyan history, Them Mushrooms are set to headline the Afro Jazz Legends edition on the 5th of August at Alliance Française from 6pm to 9pm. Tickets for the event are 1000 Kenya shillings at the door. The opening act for the night is Kwame Rigii and the event's sponsor Ricky na Marafiki will perform too.
Them Mushrooms have stood the test of time, evolving over the years. They are probably the most prolific band in Kenya.
Them Mushroom's background
The group was founded in the year 1969 and was then known as Avenida Success.
The original line-up consisted of brothers Teddy Kalanda, Billy Sarro, George Zirro, John Katana,Pius Plato Chitianda "Jibaba" and Pritt Nyale. A fifth brother Dennis Kalume Harrison joined
two years later
. In 1972 the group was renamed Them Mushrooms.[1]
Like many bands across the country, they had humble beginnings, playing at local restaurants in the coastal area. Them Mushroom were a common sight at the beach hotel circuit in Mombasa. This continued all the way till 1986. [2]
Them Mushrooms moved to Nairobi in the year 1987.  Unfortunately in the year 1992, they disbanded as a few members wanted to pursue solo careers. Due to the sudden turn of events, Them Mushrooms renamed themselves Uyoga in 2002, they simply translated their original name from English to Swahili. However in time, they went back to their original name "Them Mushrooms" and have never looked back.
Them Mushroom Journey to success
Them Mushrooms have risen to fame through their ingenious ability to tweak Kenyan dialects, crafting them into amazing lyrics and then fusing unforgettable melody to them. A great example is their classic song 'Jambo Bwana.'
Them Mushrooms have grown and evolved the kind of music they produce since their origins. Their musical sound is tinged with the heavy coastal musical influence of chakacha, blends of Taarab, obvious influences of Benga and some experimentation with reggae tunes too.
Did you know?
Jambo Bwana was originally written by one of their group members, Teddy kalanda. The song went on to sell 30,000 copies.
 Other Acts at the Legends Editions
Alongside the prolific band, will be the Ricky na Marafiki, the main sponsors of the night. They will entertain the audience with their fusion of African Musical Folk tunes and their magical blend of jazz dubbed Afro Jazz.
The opening act of the night will be Kwame Rigii.
Meet Kwame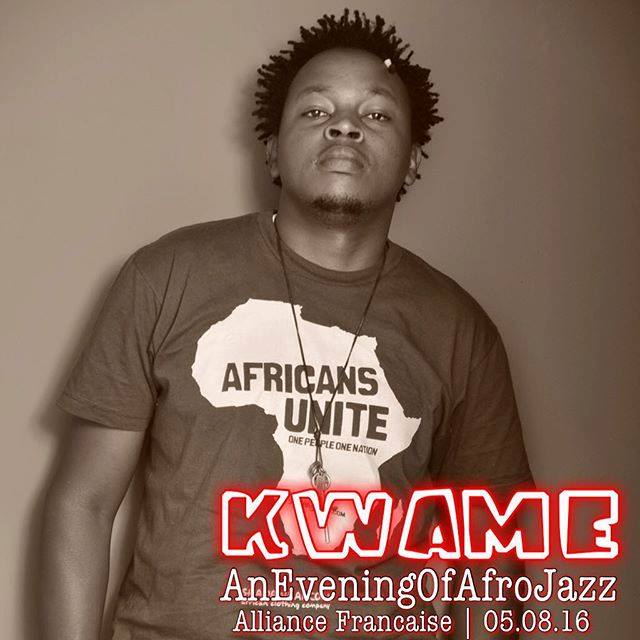 Kwame Rigii is a singer-songwriter. He sings in Kikuyu, Kiswahili and English has become a pioneer of his own style. He has been named one of the few male singers in Kenya with good vocals, according to his bio on Reverbnation;
Kwame is a musician that will sway and spin you through a musical odyssey using the various languages spoken in Kenya and have you reminiscing about the past saying , "old is gold".
Kwame's music, blends East African Rhythm and African Soul addressing issues pertaining to life and society in general. [3]
Among his notable songs is Holela (Kiswahili), it translated to carelessness in English, it is a song that depicts the spread of HIV in the country. The message addressed through the song's animated video is not only to abstain but to take control and take care. He was quite crafty in using an animated video to convey his message to his target audience.
Join us on the 5
th
 of August at 
Alliance Française
 for Afro Jazz legends edition. Enjoy the classic sounds of the Them Mushrooms, the Afro Jazz sound of Ricky and Marafiki and the celebrated vocal prowess of Kwame Rigii.
References:
[1] (https://en.wikipedia.org/wiki/Them_Mushrooms
[2] http://news.bbc.co.uk/2/hi/africa/433896.stm).
[3] https://www.facebook.com/Kwamemzik?sk=app_2309869772&filter=2
Edited by:
Kuchio J 🙂
Image Credits: