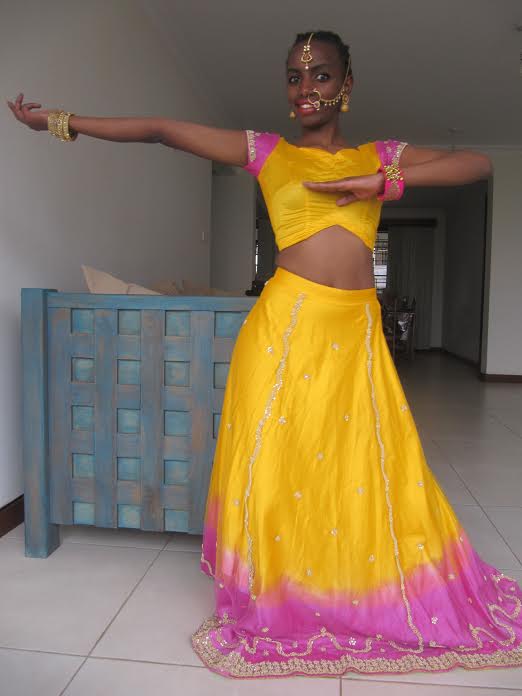 Bharatnatyam is a dance art form that has spanned over 2,000 years. It originated in Southern India. The name Bharatanatyam is a simple derivation from the four aspects of dance (in Sanskrit, Bharata's dancing). These are: Bha from Bhava meaning emotion, Ra from Raaga meaning music or melody, Ta from Taala meaning rhythm and Natyam meaning dance. Thus Bharatanatyam is the dance that encompasses music, rhythm and expressional dance or Abhinaya and strictly adheres to the Natyashastra (the scripture of classical Indian dance).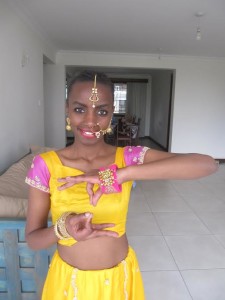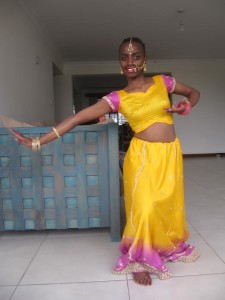 It is believed that Bharatnatyam was revealed by Lord Brahma to Bharata, a famous sage who then translated this sacred dance in a Sanskrit text which is commonly known as Natya Shastra.
Bharatanatyam was originally performed by Devadasi, female temple dancers, and was not performed for public audience up until 1930. After 1930, Bharatanatyam has since left places of worship and is now performed on a public stage. It is now performed by both men and women and has detached itself as a religious dance.
During Bharatanatyam, the dancer employs various forms and techniques that have been derived from generation to generation. The dancer uses gestures and expression to show their adoration to God through 'bhavabhinaya' (facial expression), hasthamudra' (hand gestures) and padams (narrative dances) form the basis of the performance. The performance starts with prayers to the God Ganapathi (god Ganapathi also known as Ganesh, is one of the most worshipped deities in hindu religion. He is revered as the lord of good fortune)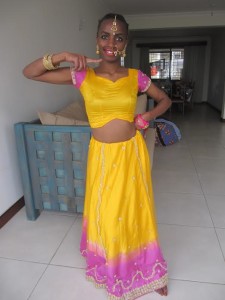 A Bharatnatyam dancer is accompanied by an orchestra that consists of a vocalist, a mridangam (barrel-shaped double-headed drum with one head larger than the other), violin, and venu (bamboo flute). There is also a thallam/manjira (percussion instrument that consist of a pair of small hand cymbals) usually played by the person reciting the dance syllables.
The Bharanatyam recitation/ repertoire consists of various items that support the dance.These are:
Alarippu which is a traditional invocation that symbolizes the respect offered to God and the audience.
Jatis which are strict compositions based upon the different time-signatures (this is a notational convention used in Western musical notation to specify how the music is to be counted. In a musical score, the time signature appears at the beginning of the piece).
Sabdam piece which is an interpretative narrative, usually performed in seven beats.
Varanam which are are elaborate descriptions of the nature of God.
Tillana which is a piece that is a purely abstract form devoid of narrative that is performed towards the end.
Managalam, which ends the performance and is a short song (Shloka) praising God.
During the performance the dancer wears a lot of ornaments of shining stones on the neck, ears, hands and head; a jasmine garland in the hair and a foot anklet with small bells. The performance usually lasts two hours.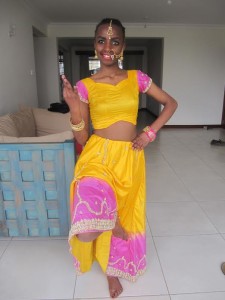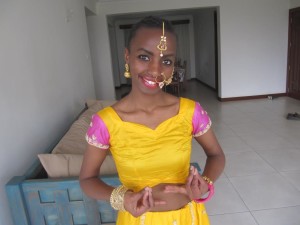 Today Bharatanatyam is one of the most popular and widely performed dance styles that is practised spelling by male and female dancers all over India. Due to its wide range of movements and postures and the balanced choreography. Despite the fact that there is a general awareness of Bharatanatyam across communities, there is a huge gap in the understanding of the richness of styles, spiritual significance and many other deeper aspects of the classical form of Bharatanatyam.
Featured Image: Wikipedia