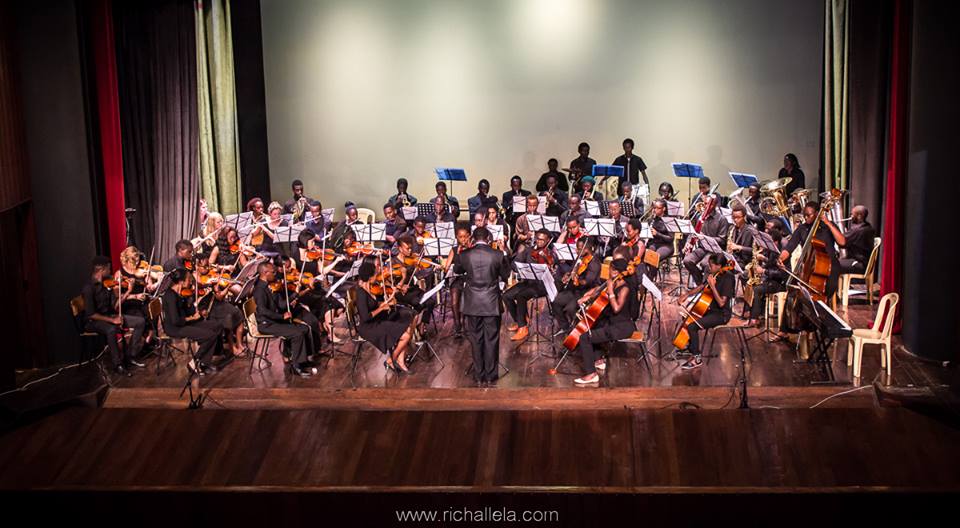 Standing in front of the orchestra, Levi Wataka, holds a baton on his right hand, as the other hand rests on a music stand. He reads the score to interpret the music, with a lift of the baton, the music sets in, and everyone in the ensemble is playing in perfect harmony. Levi initiates an electrifying moment!
It is not just about the basic skill set Levi Wataka has in conducting a musical orchestra, it is the way he is able to command attention from the podium to the audience. With his faithful assistant, the crisp white baton, he maintains the tempo, at times he dances subtly as the tempo becomes faster, and his movement seems increasingly bewitched by the music as he tries to be in tune with the musical time signature. It is just the beginning….
Meet the Multi-instrumentalist and conductor, Levi Wataka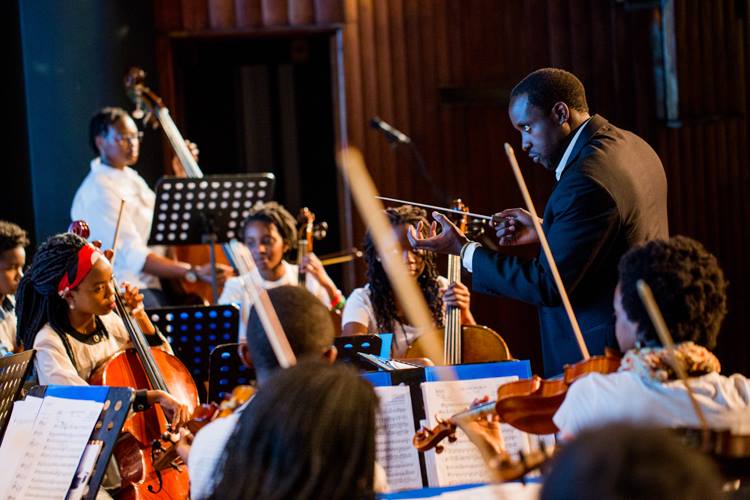 It is said that people who are in music age gracefully. How old are you?
I am 36 Years old. I would think sportsmen age more gracefully than us, right?
Spending most of your valuable time immersed in matters music. How do you juggle your family time and your music life?
Well, I have never been good at this. I sometimes work too much and personal relationships and family/friends have been the losers. But that's hopefully changing in 2017 😉
What goes through your mind when you hear the name Duke of York & Prince of Wales?
….Duke of York and who?…….
It has been noted you are always impeccable in your choice of suits, Tuxedos. Describe your fashion choice sense to us?
Sheer luck. If it fits and is comfortable for the job, I wear it.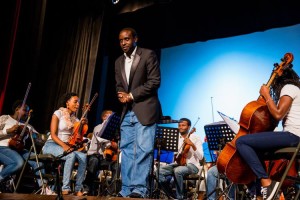 A man's image is judged by the shoes they wear, the watch they have strapped on their wrist and of course the cologne scent left in an elevator. What is your perfect must-have for a special conductor's night?
Sadly, I do not give too much thought to superficial image. I think our impressions of each other can be more fundamental, more real. That said, I prefer to stay simple and blend in. The best people in my line of work shy away from the 'branding' and 'labelling' associated with celebrity in the wider entertainment world.
You had a share of your life time in the sports arena playing rugby. How did it all begin?
I struggled to play rugby as well as music and did not make a clear choice for a long time. I was drawn to rugby in 1993 after my older brother came home from Nakuru High School as national champions, having beat Lenana. When I joined high school two years later I was privileged to go to Lenana and dreamt of winning the national title and going back home with a story that trumps his. Sadly (or happily) music got in the way and I never played all out in high school. I then spent a very short stint at Mwamba Rugby but even then, I was always rushing to rehearse somewhere or other. Whenever I was on the pitch, I was a scrum-half. Usually a safe place to be. I have continued to follow the game and completed IRB level 2 coaching and refereeing qualifications. I work with age-grade and grassroots teams in schools and especially with Molo Simbas Rugby. Coaching allows me an opportunity to be in the game with reduced the risk of breaking a finger-which is a career ending event if you earn a living from playing an instrument.
How did you get into conducting for the Orchestras in Kenya?
At first there were no orchestras available for regular chaps to play in, let alone to conduct. The then Director or the Kenya Conservatoire of Music, Mr Atigala Luvai started the first accessible orchestra in 2004, where I taught for a while. He invited me to lead rehearsals once and that was it, I was hooked. Two years later, a visiting conductor from the UK asked me to conduct during one of his rehearsals with the Nairobi Music Society Choir, after which he advised me to try and pursue this line. As well as helping to develop an accessible orchestral system in Kenya- instruments, repertoire, training etc I have tried my best in the last 10 years to fit in as much study as I could. I took lessons from Duncan Wambugu and Jim Pywell here in Kenya, after which I have been lucky to study with some of the best teachers worldwide. I make a point to spend at least two months a year with one of these teachers and their orchestras, to keep learning.
Besides being a conductor, do you play any musical instruments?
I play the Piano, Clarinet and Orchestral Percussion. I have spent some time playing drum-kit and trombone and, being a school teacher, a battery of other instruments. My own playing has suffered due to lack of time to practice each instrument well. I have been advised by the concert master of the National Youth Orchestra of Kenya (KNYO), Bernadette Muthoni, to get back to a rigorous practice schedule in 2017 for each instrument. I think I will obey this, lest I get fired 🙂
Many musicians usually name the instruments they use in their line of music performance. Have you named your baton?
Depending on the repertoire, the ensemble (choir, full orchestra, wind band, string orchestra… children's groups) I choose which baton is best for the day.
Being a conductor there are certain expectations from the audience, such as a smooth sailing performance. Have you ever experienced any hiccups?
Yes, there are always hiccups. We try our best to give the audience a good 'picture' of the work and to represent the composers intentions clearly nevertheless. One time, during one of the Safaricom Classical Fusion Concerts, while performing Mozart's Piano Concerto No 23 for a very big crowd at an open air venue it started to rain. The pianist, Kiggundu Musoke played gallantly but we could all not hear each other very well at all amidst the pounding rain and wind. The orchestra weathered very well, whilst shielding their instruments from the rain and keeping their music from flying off the stands. The whole time I wondered whether to stop the performance altogether and wait for the rain to subside. We finished the performance but I am sure none of us ever wants a repeat of that. The audience we very gracious on this occasion, thankfully! Most hiccups are always due to something unexpected-we learn to be as prepared as we can be as performers in case such a thing happens.
What is the future of conductors in Kenya? Do you see a rise in female conductors?
The future is indeed bright. In the space of ten years we have developed several large ensembles that will only continue to grow. I must thank the Art of Music Foundation for their tireless commitment to bring music to everyone at no cost. Elizabeth Njoroge, is an outstanding astounding person and through her work we have enough ensembles, (Kenya National Youth Orchestra, The Safaricom Youth Orchestra, the Ghetto Classics Orchestra and the Link-Up schools programmes) for many younger conductors to learn and grow. We should look out for Philip Maina, Brian Kepher, Peter Nyabuto, Jason Rae, Paul Asiyo, David Ralak, Ken Mwiti, Benjamin Wamocho and Samson Maiko among other orchestral conductors. Kenya has always had many female conductors, many of whom thanklessly played a big role to shape the future of music. Mrs Ayieko and Mrs Mwele are examples of great mothers of music. We also currently have Corrine Laight who conducts at the Conservatoire and with the Nairobi Orchestra and Keziah Ntwiga from the KNYO who are orchestral conductors. Don't forget Stellah Mbugua and Esther Nashipae-some of the best young female conductors I have seen. These last two work with choirs for now, but have very good technique and high level musicianship.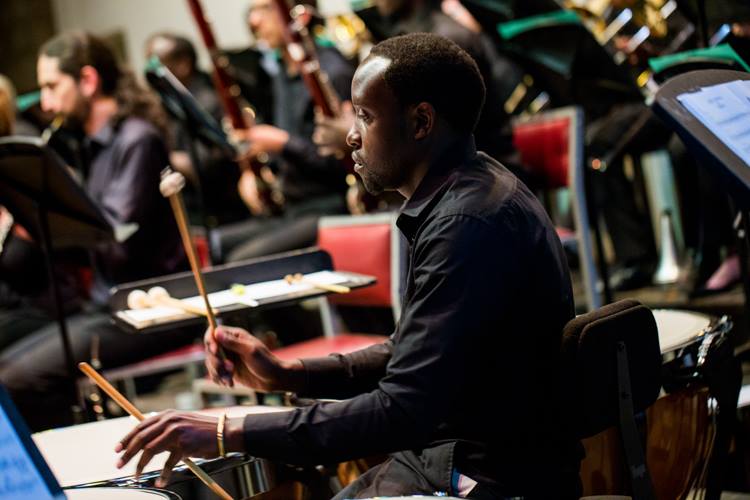 Photo credits: Quaint Photography