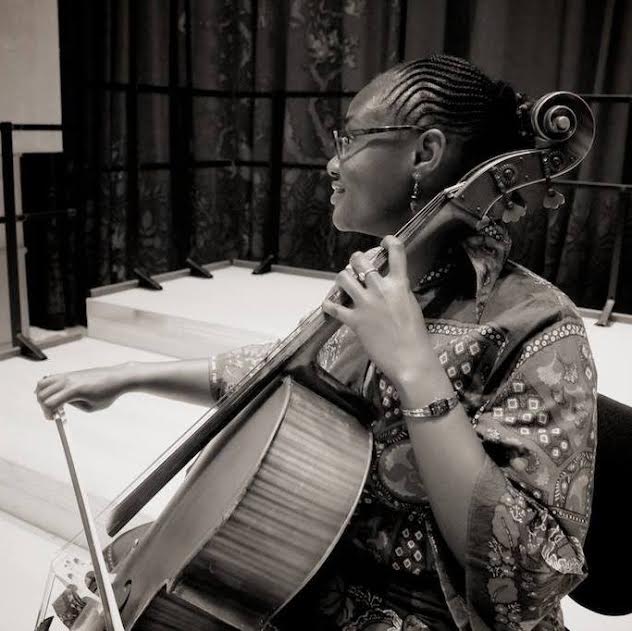 Nowadays, we are accustomed to the mellow tunes of violinists within the Kenyan musical scene. A rarer person or even a group of people bring down an octave or so lower within an symphonic performance for a much greater cause. Like most instrumentalist Papa's goal and intention is to emulate the human voice, with her instrument whereby the audience can learn a thing or two by listening to such virtuoso.
Additionally, for every Charles Mingus or Ron Carter , there are countless female bassist such as Espranza Spalding and Phaedra Kwant  who take up the workman like instrument for deeper reasons than attaining celebrity status. Meet Papa Viola :). Papa uses a distinct grain to color music with even articulation and a buttery tonal-ism. She makes the bass not sound like a big exaggerated violin or cello, but papa handles the doubles bass with melodies and rhythms that have proved to be highly infectious.
Papa Viola
Tell us a bit about yourself?
I am a music teacher who appreciates good music!
What is your involvement with the Kenyan Classical Music Scene?
I am currently a teacher of cello and double bass at the Kenya Conservatoire of Music and Safaricom Youth Orchestra. I am also a member of the National Youth Orchestra of Kenya and Nairobi Orchestra. All these institutions promote music education through Western Art music, or in a more general term, classical music.
Have you ever composed any original Piece on the Viola/Bass or the orchestra to perform as whole?
Goodness!
No. I don't consider myself that creative. I am still exploring the inexhaustible wealth of cello and double bass repertoire that already exists. Besides, some people were meant to compose and others to bring those compositions to life.
Why Double bass? Kindly elaborate the whole string section and the role played by each section i.e first and second violins, violas, cellos and double bass.
I got interested in the double bass after listening to old school big bands which use the upright bass as part of the rhythm section. I was completely sold on the notion of holding it down! Though the styles are different, crossing between jazz and classical music isn't difficult. The bass is the lowest sounding member of the string family, next in size is the cello, then the viola and the smallest and therefore highest sounding is the violin. The bass mostly serves to provide the basis of the harmony under the melodic lines usually played by the violins. The violas and cellos also play melodies, but most of the time they serve as fillers for the harmonic structure of the piece. It is fulfilling to play such a pivotal role in the ensemble and i don't fancy the limelight that much so playing the bass was a natural fit from the get go.
And the rest, as they say, is history.
The Kenyan Jazz scene as it is, has not fully appreciated jazz orchestration that involves any sounds of strings in the band set up, (in your opinion what could be the reason)
I think that the Kenyan Jazz scene is still growing. Incorporating strings (and woodwinds such as the flute and clarinet) is just an idea that hasn't been explored  yet. Given time, all these ideas will lead to a truly sensational sound from Kenyan Jazz musicians.
Do you intend to join the jazz scene and share some of the distinct sound that's missing?
Wouldn't that be phenomenal! It is my hope to share music with anyone who would want to join me. I cannot state categorically that I want to 'join the jazz scene' (am I not in it already though? Haha!) but who knows, I might just end up sharing the stage with all the wonderful musicians in Kenya!
The double bass has been to likened to a subterranean mooing sound. How have you been able to harness your sound to give it such a plummy tone to it?
The bass does everything for me, to be honest. I spent a lot of time on the onset of my playing trying to force my ideas onto the bass and it just did not work well. After I started responding to it instead of trying to make it respond to me, everything fell into place.  'Plumminess' has now become second nature.
If anyone is playing the violin is it easier to join you in your section?
I wouldn't say it would be easy, but it is possible. Double Bass and Violin have wildly different techniques of playing. A violinist who wishes to play the bass  should approach bass playing with an open mind and be ready to hear their teacher correct them as often as is necessary. I can assure them it is definitely worth it!
Where can one learn the Viola/ Double bass? Do you teach the instrument yourself?
Come join the Kenya Conservatoire of Music if you would like to play the Double Bass. I might end up being your teacher!
I have gone to concert where a musical player was standing up to give their final bow and their ass had eaten their pants. So what your embarrassing moment in a musical concert, how did you live with it?(I don't bit nor judge)
I dropped my bow in the middle of a concert. And I was seated os the principal cellist therefore everybody could see what I was doing. My world froze for a whole minute and I couldn't decide what to do. The conductor shot me one sharp glare and I had to act fast. I stood, picked my bow and sat back down acting like that was very normal. I was actually dying inside.
Men rarely touch the strings, just a countable lot. Are men intimidated to play in the string section? Do the strings emasculate them? (What is your opinion?)
I don't know! There are many successful male violinists the world over. Maybe the memo didn't get to our Kenyan brothers…
Kindly share with me, your greatest unforgettable gigs and why?
In 2014 I was part of the Scokendia Ensemble, a group of musicians from Scotland, Kenya and India who came together to present original music as part of the XX Commonwealth Games Celebrations in and around Glasgow. I got to play  with  and watch some of the finest musicians I have ever met, visit the most picturesque locations on the globe, and made friends I will cherish forever. I even got to watch our very own Shujaas triumph over a country whose name I have forgotten and the Samoans thrash yet another country whose name I have forgotten in Rugby 7s!
Find Papa Viola on @Papav7
Images Credits: Quaint Photography.