As weeks morphed to months following the imposition of economic and cultural lockdown in response to the COVID-19 pandemic, the resumption of live music performance remains an unknown.
As a society, we previously worried about a growing generation of digital natives colonized by their gadgets with little time to build relationships physically at times usage exacerbates depression, anxiety, and loneliness. But in this pandemic, technology has served as a lifeline, bringing people together from around the world. Musicians have provided solace during strict confinement.
Currently, there about five orchestras in Kenya , Nairobi Orchestra, Kenya National Youth Orchestra, Ghetto Classics, Kenya Conservatoire Orchestra , Safaricom Youth Orchestra which have canceled all their schedules in the wake of the pandemic.
In a candid conversation with Art of Music director, Elizabeth Njoroge, highlights the plight the classical music scene is currently facing and how they are keeping the music alive.
The Approach to keep the music alive
The Safaricom Youth Orchestra ventured the virtual environment when they did their auditions online. "We held auditions in an interesting way, we asked interested parties to send a recording of themselves, those deemed fit would meet their tutors on a one on one basis. "I am elated to say after a rigorous process, we finally held our first session, last weekend with the new and old students, with the support of Safaricom PLC. Phones and weekly airtime to access the class" Says Elizabeth.
The biggest challenge for us was access; online, to the facilities and to an instruments. Majority of the children in the various orchestra, Safaricom Youth Orchestra, Ghetto Classics and the likes do not own an instrument of their own.
About 2.5 million people live in Nairobi's slums, making up 58 per cent of the city residents. These individuals have been the hardest hit since the pandemic was announced and strict restrictions imposed. In a report tabled by research firm Tifa Research, "Covid-19 Global Pandemic in Nairobi's Low-Income Areas: Health, Socio-Economic and Governance Aspects" following a survey conducted between April 25 and 27.
However, for Ghetto Classics kids it was merely impossible to prioritize furnishing their students with gadgets or instruments, when most of these children are in homes husting to make ends meet. "There are six to seven people in that room, there is no food and there is a phone and instrument, guys will just sell it". Says Elizabeth Njoroge.
Elizabeth first instinct was to ensure her students had food and other basic commodities in their homes. In collaboration with community based leaders, she got donations from benevolent organizations, to support the most vulnerable in the sprawling slums of Korogocho. They have supported hundreds of families whose livelihoods have been disrupted.
Elizabeth painstakingly had to follow due process with community based leaders in Korogocho to ensure children could access the instruments at their center in St. Joseph Catholic, Korogocho. She visited the chief numerously and the other government officials to get permitted to use the premises whilst adhering to the precautionary measures set in place to reduce the spread of COVID-19 in such densely populated areas.
One of the biggest challenges to date, is insufficient instruments, the Art of Music in Korogocho, is allowing only a maximum of six students in a room, and all instruments are sanitized before and after use. However, it is impossible to ensure social distancing beyond the confines of a classroom set up.
Distance learning solutions by Classical Musicians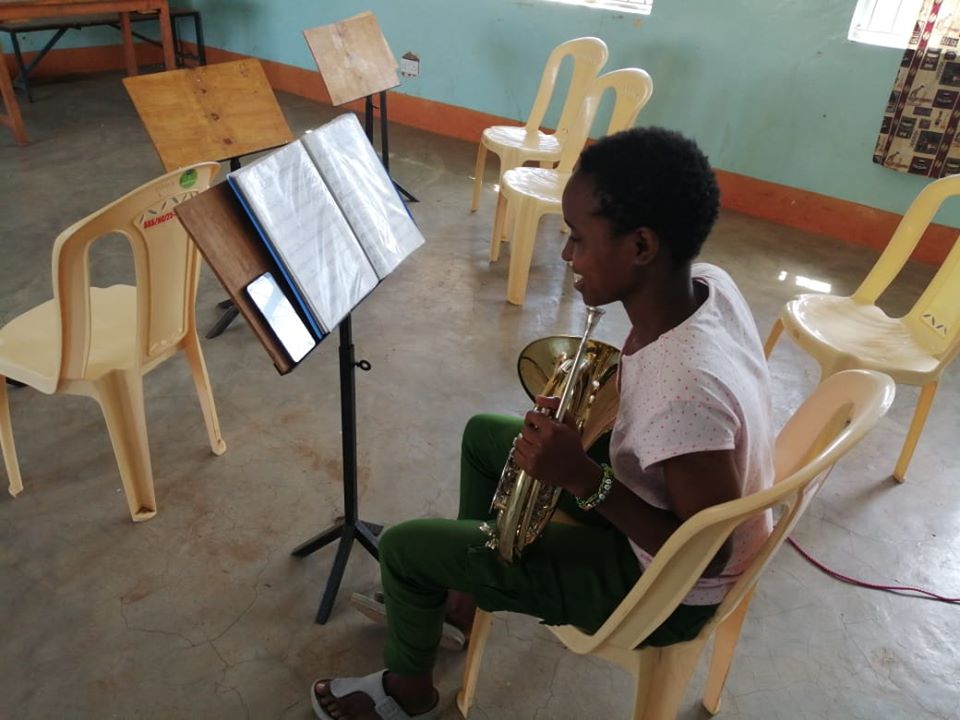 The implication of COVID-19 and adapting to the best practices of social distancing is impacting all of us. The COVID-19 pandemic has presented some unique challenges for music tutors as they move to a remote learning approach.
Classical Musicians are continuously reinventing themselves, "It is a whole new world of teaching online. It is very difficult, there is a lot of non-verbal physical things that happen in a lesson or you can see your student needs more encouragement, hugs or talk about stuff. Tutors are now learning new ways to understand these non-verbal cues instinctively"
Since the resumption of online/virtual classes, tutors such as David Ralak, Brian Sempele, Masala Sefu and Levi Wataka have arranged weekday time schedules that suit their various students.
The future of classical music in Kenya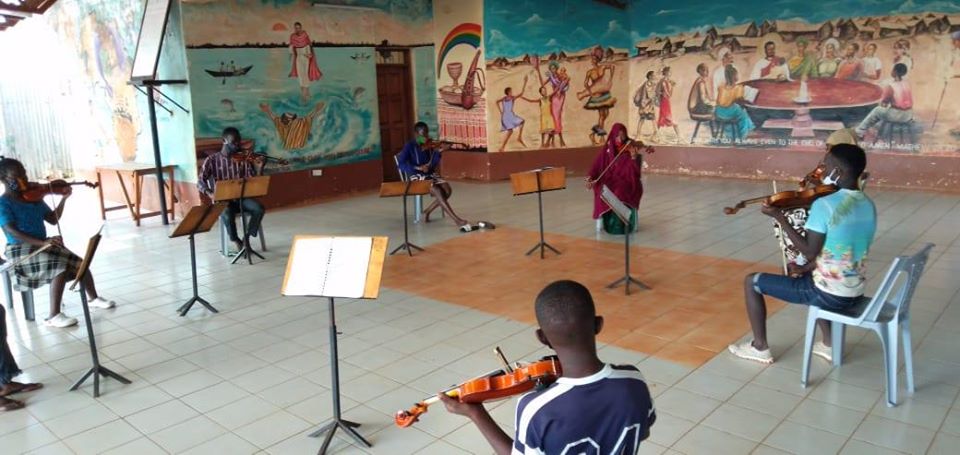 The tens of thousands of musicians in these smaller groups such as the Ballets, chamber members, not to mention the large orchestras who have freelance careers, face threats to their careers and livelihoods even greater than their counterparts at the well-known institutions.
The economic impact of the shutdown will no doubt be felt for years to come for our classical organizations because so much of their money comes from donors. When those investments suffer, there's not enough to give to support the classical music.
Even as orchestras deal with the abrupt financial effect, many musicians wonder about the day when they can play again. Will concertgoers show up? How can social distancing work in a music hall? How will venues cash in from ticket sales? What if there is no vaccine or cure, how will it pan out in the future?
More so, from members of audiences in masks, to musicians staying a certain distance apart, there are already concert hall contingencies being used to ensure concerts can go ahead safely. Even with the transition to virtual spaces, it is not entirely easy to earn from the venture.
"The online thing is with us for a little while. When we open up, we shall have a more intimate, limited number of tickets and an orchestra of eighty will be maybe accommodate twenty players". Elizabeth added on to say, "Hopefully have concerts at people's home gardens, where audiences are spaces out nicely. Venues will lock out some seats".
Possibilities of earning income
"You cannot earn any money from streaming music. You could ask for donations before they access the stream". "Right now, musicians who put on their work online earn nothing. For organizing an event online, how much shall we be charging as not everyone can afford the regular ticket?".
As Orchestra members feel even more adrift with anxiety; They cannot practice together and — without an audience to listen and applaud them, it is like working in an eerie forest trying to navigate through – it is lonely. The government does little to subsidize the arts or support the arts — some of these groups face extinction.
"How do you make art as valuable as other essentials in their lives?" she concluded.
Elizabeth has faith that music and concerts will resume, but feels far less certain about which institutions and groups will survive. It is passion that drives people to play professionally.
Support Ghetto Classics and Art of Music Foundation, click here
All images courtesy of Art of Music Foundation.